Foam Insulation Contractors
Foam insulation is arguably the #1 way to lower your gas and electric bills year-round, minimize energy waste in your home, and reduce your carbon footprint. Without insulation, the air-conditioned air you pay so much for during the summer will easily seep outside while warm outdoor air flows in; and during wintertime, cold outdoor air will infiltrate your home and cause your home heating system to work much harder (and cost much more money) than it needs to. Did you know that a home with improper insulation can lose up to 40% of its costly cooled or heated air? That's like throwing money right out the window!
If you'd like a free foam insulation estimate, call or contact us online today!
All of our Foam Insulation Contractors are prescreened, licensed & insured.
What is your R-value?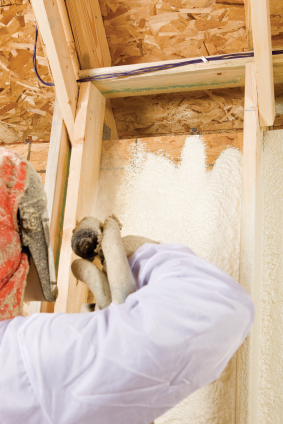 A home with the upmost protection from the outdoor elements will have sufficient insulation in the attic, basement or crawl space, walls, floors, and cathedral ceilings (if applicable). But how do you know how much insulation in truly enough? Insulation is measured in terms of R-value, or the resistance to heat flow. The higher the insulation R-value, the more protected and sealed your home will be. Homeowners in states with extreme climates, such as sunny Florida or chilly North Dakota, must ensure that their home's insulation levels are consistent with the U.S. Department of Energy's recommended total R-values. On average, most homes in the U.S. should have an attic insulation R-value between R-30 and R-60. To determine the preferred insulation R-values for all areas of your home, contact a foam insulation contractor serving your area. We currently have spray foam insulation contractors in Connecticut, Deleware, Illinois, Michigan, Iowa and Ohio.
Foam Insulation 101
There are several types of insulation, some more effective than others. One of the best types of insulation is called foam insulation. Like other types of insulation, having foam insulation installed helps to protect your home against outdoor hot and cold temperatures. Home foam insulation installation also helps to reduce air leaks, limit moisture buildup, and muffle outdoor noises. Although foam insulation is, on average, more costly than fiber insulation, it is often a more effective way to protect your home and family from the outdoor elements.
A foam insulation contractor can spray foam insulation into hard-to-reach locations, or blow foam insulation directly into tight crevices or around obstructions. A foam insulation installer can also install rigid foam insulation into unfinished walls, floors, and ceilings, or install cell foam insulation (either open or closed). Speak with trusted foam insulation contractors about which type of foam insulation – spray, blown, rigid, or cell – is best for your home, climate, and location.
Choosing a Home Foam Insulation Contractor
Not all home foam insulation contractors are created equal, so it's important to do your research to find the most knowledgeable and trustworthy insulation contractor serving your area. Read reviews online, ask for recommendations among your neighbors and friends, and, once you've narrowed your choices to two or three home foam insulation contractors, call them and ask about their qualifications, experience, and rates. You can learn a lot about a foam insulation contractor by simply picking up the phone, so don't be afraid to carefully research home foam insulation installers in your area!
Say "Goodbye" to a Drafty Home, and "Hello" Comfort!
Whether you want a home foam insulation contractor to add protection to a brand new home or to improve your existing home's R-values, foam insulation is one of the best ways to reduce utility bills, limit air leakage, and maximize the comfort of your home!
Foam Insulation Contractors
We'd like to connect you with the best foam insulation contractors in your area. Choosing a foam installation company can be difficult and we are here to help. We have prescreened foam insulation contractors that are available in all 50 states including Connecticut, Delaware, Florida, Illinois, Iowa, Massachusetts, Michigan, Missouri, North Carolina, New York, Ohio, Texas, and Virginia that are available to give you the quality service that you need.
For a free estimate on home foam installation, call or contact us online today!
Looking for a price? Get a no cost, no obligation free estimate.